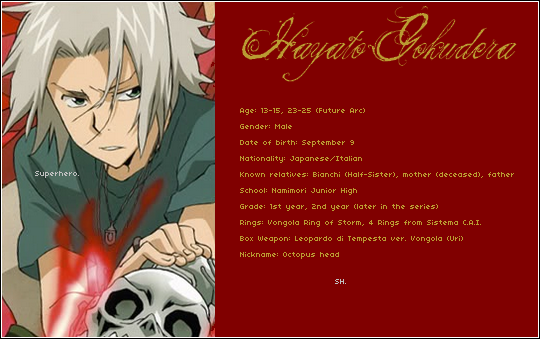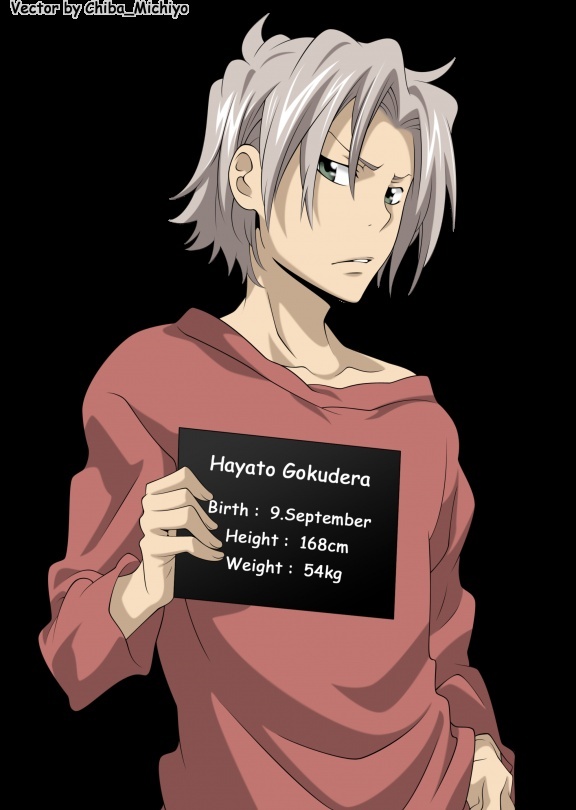 In case you're not able to read whats on the pics i will gladly post my age and etc...
Name: Gokudera Hayato
Gender: Male, Single.
BloodType: B
Age: 14, and 24 in the future.
Team: Vongola Decimo & Guardians.
Flame: Storm, lightning, Rain, Cloud, and Sun.
Height: 168 cm
Weight: 54kg
Family: Lavina (My mother)
Bianchi (Half-Sister) (as for my dad i dont care =.=)
Animal Box Weapon: Uri (means melon in japanese, and she is type leopard)

~
Equipment
~
■
Dynamite
: Gokudera is very proficient in the use of Dynamite as a weapon which has given him the name of "Smokin' Bomb Hayato" (スモーキン・ボム 隼人, Sumōkin Bomu Hayato) in the manga and "Hurricane Bomb Hayato" in the anime. He always carries huge amounts of Dynamite on him at all times. He has gone on to develop multiple techniques that basically consist on bombarding his opponent with multiple explosives (the more the better), redirecting his projectiles to improve it's accuracy and speed and sneak bombs pass the enemy defences.
■
Sistema C.A.I.
(lit. System Change Arms Instantaneous or Instantaneous Arms Change System in Italian ): A system of Box Weapons that utilize the five different Flames that flow within his body.
■
Gatto Tempesta (Storm Cat)
: Gokudera's Box Weapon is a storm cat named Uri and also apart of Sistema C.A.I. It is capable of becaming a Storm Leopard by absorbing Sun Flames. When updated to its Vongola Box Form, Uri is now capable of Cambio Forma that can change into the shape of an archery-style weapon. When released from the Gokudera's Storm Buckle, Uri gained armor on its legs and is wearing sunglasses, and is capable of merging directly with Gokudera for his Cambio Forma.
■
Cambio Forma: G's Archery
- When activated, Uri combines with the Flame Arrow, creating a giant ornate bow made of bones with Storm Flames covering the drawstring and the Roman Numeral I on the front to symbolize the connection to the 1st Generation. In its Version X form the Cambio Forma has now become many straps of dynamite while forming armor on his legs and one arm, sunglasses, and a Piped-Shaped Igniter to light his dynamite.
■
Motorcycle/Airbike:
Used to travel great distances without the use of Dying Will Flames, thus escaping detection.
■
Buckle of the Storm Version X:
The upgrade of the Vongola ring combined with Uri.
~
Techniques
~
■
Tornado Flame Arrow:
After a period of time is taken to concentrate the Storm Flames, a single, highly destructive burning arrow of bones is shot.
■
Gatling Arrow:
An attack that fires four Storm Arrows simultaneously, it is capable of pinning an enemy to the ground and incapacitating them.
■
Flame Thunder
: It fires a beam of Storm and Lightning Flames which is strengthened by the Solidification factor of the Lightning.
■
Rocket Bomb Version X:
Rocket Bombs that use Storm Flames for propulsion with increased speed, power and homing capabilities.
■
Air Bomb:
Gokudera throws this bomb beneath him to allow him to leap great distances.
■
Uri Bomb:
Gokudera creates a Uri-shaped bomb with a fuse as its tail.
What I like?
Um…pianos, cats, and I have a mad obsession with cryptozoology…so if you happen to see bigfoot or a Chupacabra LET ME KNOW!! (lol)
What I don't like?
I don't like anyone targeting my boss Tsuna, or any of my other friends. Another thing I don't like is Cookies. Why? Because my sister, Bianchi, first poisoned me when I was a kid by mixing her toxic with cookies…so each time I see a cookie it reminds me of that day, it still haunts me so yeah….=__='' (this all seems pretty random but its true!!!XD)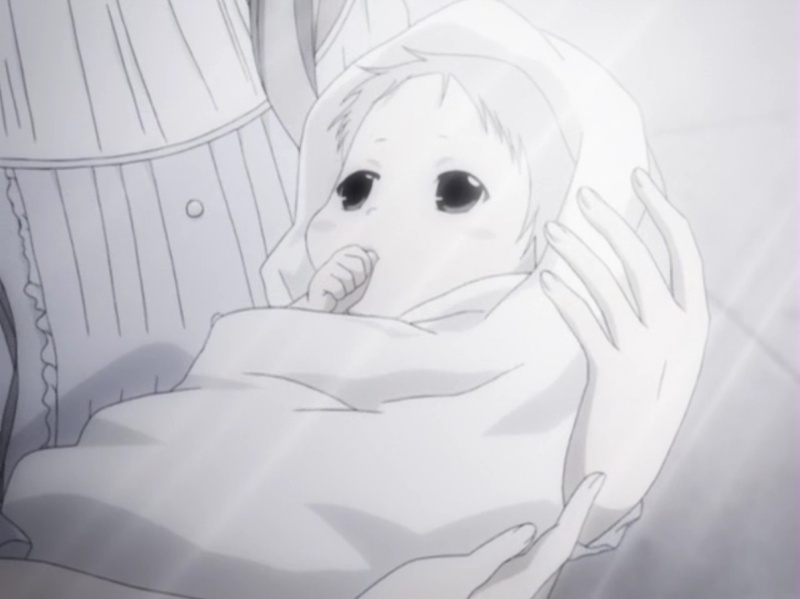 ~CHILDHOOD~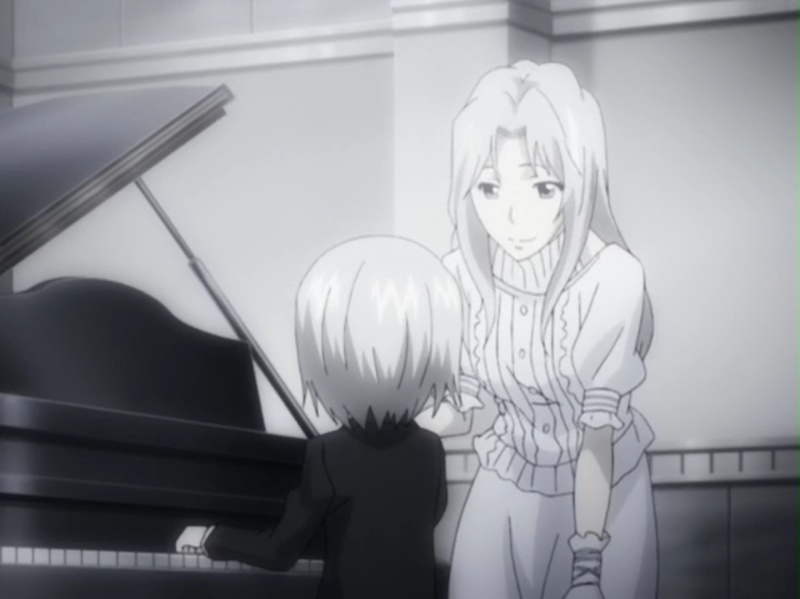 When Gokudera was younger, he was a talented pianist and lived in an expensive mansion. He would usually practice daily and sometimes to a crowd of people. He has a half sibling named "Bianchi" she was older than him and would sometimes love to poison Gokudera with Cookies. (>_<) Gokudera's mother was a woman with whom his father had an affair. His father is reportedly a member of a Mafia family.(but he isn't that important so I will go back on my mother ;P) She was a very talented pianist as well, whom Gokudera's father fell in love with at first sight. Not long after, they became involved and the woman bore a child. Thus, Gokudera Hayato was born. However, in the mafia, illegitimate children are not tolerated luckily everyone was told that Gokudera was from Bianchi's mother, if not Gokudera would probably have been thrown out into the streets. At the age of eight Gokudera then had a pianist teacher, guess who?! Yeah it was his mother but atm he didn't know it was her so he only saw her as his teacher. Gokudera enjoyed being with her, he felt so much joy being with her. One day, Gokudera really wanted to show her some of his improved skills he learned but that day he waited….and waited….and she never showed up. Later on Gokudera wondered around eavesdropping on some of their housekeeper's conversations, sadly he found out that his pianist teacher was his real mother and that she was killed after driving off a cliff on her way to see him. It slid off the road at an impossible location. It's been said that there weren't even tire marks. Suicide was considered, and she had been looking forward to that day… she even brought a present for the young Gokudera. Gokudera felt so scared, sad, and just about everything that he fled the mansion the day never to be heard of again. However, after his mother's death he soon decided to join the Mafia but obviously once again no one wanted to accept Gokudera into their family; the fact that he was an oriental half-breed lessened his chances of finding a Mafia family to take him in. To become stronger, he sought advice from Dr. Shamal, who, at the time, was working for his family. Gokudera seemed to have looked up to Shamal who taught him how to use dynamite. Furthermore, Gokudera copied Shamal's hair style too. It wasn't long before Shamal caught how reckless Gokudera was when handling bombs, fearing or actually worrying for Gokudera's life Shamal decided to stop being his teacher and walked out on him, leaving young Gokudera again alone with no one to care about him.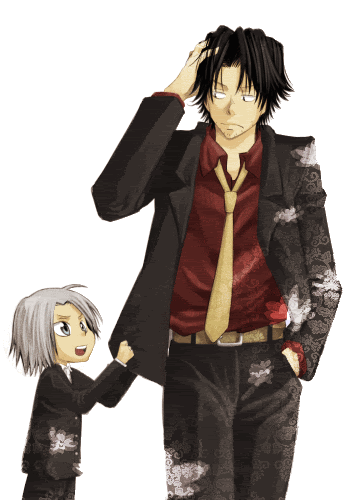 ..........The guy on the right is "Shamal"....
(Now I go to first narrative) So basically I lived my own life with no one to be by my side and with only one goal….to take the position of Tenth Vongola which was handed to this boy named Tsuna Sawada….that was my only goal in life….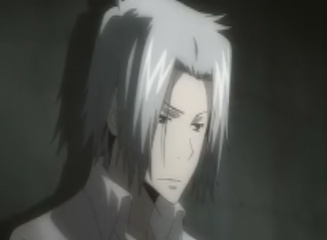 ~ My Teen Life ~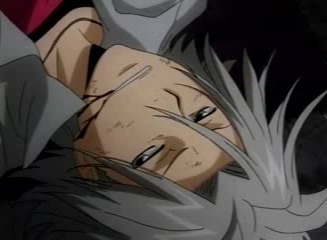 Growing up I ended up hating almost everything losing that nice soft side I once had when I was a kid, I would go and pick fights with ally strangers and some other stuff…I didn't care anymore about anything..I liked being left alone. I learned how to handle dynamites all on my own and finally decided to move to Japan where my target lived. Joining his school called "Namimori Middle School" I found him, he seemed not at all strong..in fact, I was bigger than he was but urge that I was to accomplish my goal I battled that kid after school where no one would hear his yelps. It wasn't a real fight since the kid, Tsuna, didn't want to fight and ran around dodging my dynamites. I then let the anger get the best of me as I pulled out too many dynamites at once which slipped off my fingers and rolled besides my legs….at that moment I had no quick reactions and nothing left to do so I waited for the explosion knowing full well that I was going to die..amazed that I was, this Tsuna character saved my life by putting up every last one of my dynamites flames out before they exploded. Ever since that day i was loyal to him, i would do anything for him heck i even call him my boss since i joined his Vongola family (i would follow him around a lot lol) And about the rest of my teen life I been on near death situations and battles but I finally had someone to look up to, for some people it might not be that all great but to me….this was more than what I could hope for.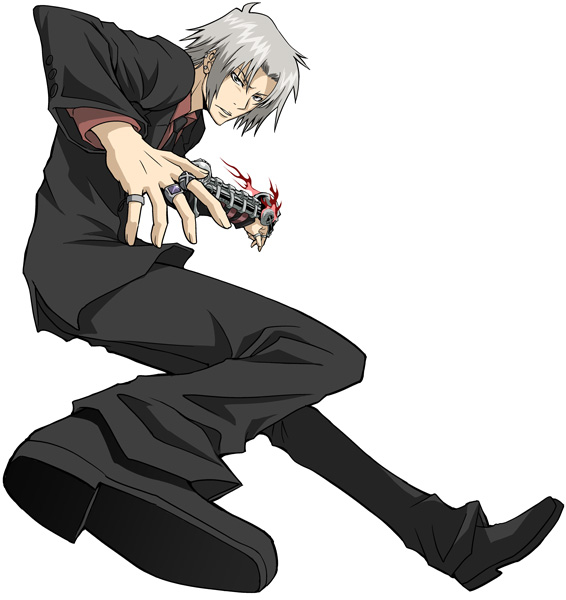 ~ Adult Life/Future Arc ~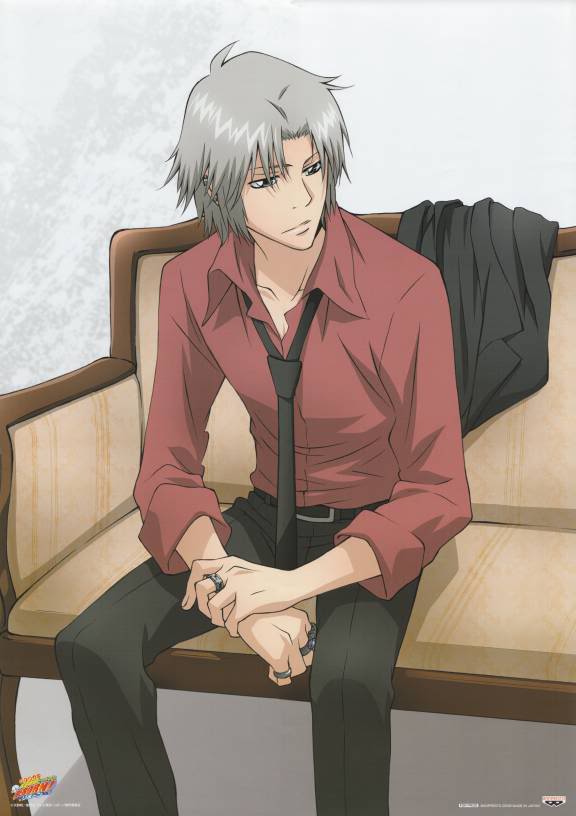 I can't say that much about my future since I was only there for probably 3 weeks or so but before I go into my future I would like to mention how it all started. You see, Reborn our teacher for this Vongola Family disappeared without a trace and Tsuna told everyone one of us to find him. In the end one by one we were hit by this weapon called "Ten Year Bazooka" which of the members of the Vongola family called "Lambo" didn't learn how to use properly and accidently caused all of us to travel to the future only to find out that the world we once lived in turned out messed up. Once we were on the future world, one by one we would end up there but in our adult forms, our present selves weren't there and we had no knowledge of what was going on. Lots of people died and we, the vongola family, were being targeted by a guy named Byakuran. He had his own army and other Mafia families working for him and at the time we didn't know how to defend ourselves, luckily there was some good people left to took us under their wing and taught us all we needed to know about box weapons and other abilities. (It's a pretty long story which continues for a while and could go into a lot of details but due to the time I have left i dont cant sorry T.T, I seemed to forgot to mention that after we were transported to the future world each one of us had only 5 minutes before we would turn back into being teens…however again we had knowledge of what we did in the future)
~VONGOLA FAMILY~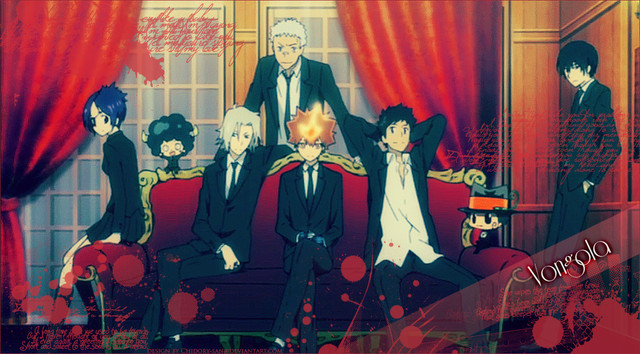 (¯`·._.·(¯`·._.·(¯`·._.· THANKS FOR READING^^ ·._.·´¯)·._.·´¯)·._.·´¯)