ஐShura Kirigakureஐ

ஐGeneralஐ
Name:
Shura Kirigakure
Race:
Human
Birthday:
August 8th
Age:
26 (says she's 18)
Gender:
Female
Height:
169 cm (5'7")
Eyes:
Bright Purple
Hair:
Dark Red with Blonde Ends
Blood Type:
O
Status:
Alive
Affiliation:
Exorcists
Class:
Upper First Class
Meister Type:
Knight & Tamer
ஐPersonalityஐ
Shura has a rather laid-back personality and uses slang; using
yer
instead of
your
. She is also noted to be rather blunt, speaking freely about sensitive topics, as well as not being hesitant in pointing out others' flaws. Even with her superiors, she is not afraid to challenge them, which on a few occasions resulted in physical conflict. Like Rin, she often slacks off, and would rather drink and let others do work. However, when needed, Shura can be serious and focused, as seen when she duels Amaimon and being able to depict the fact that Rin's flames take over him because of his fear. She is also fiercely loyal to Father Fujimoto, despite denying his ways. Insulting or playing around with Shura can lead to being
punished
. Shura is currently hiding her true age by stating to everyone that she is 18, when Yukio has alluded to the fact that she is 26.
ஐHistoryஐ
Little is known about Shura's past, except that Father Fujimoto saved her as a child from the path of evil. He also took her as his apprentice, and passed on his knowledge and skill to her. She eventually earned the title Meister as both a Knight and Tamer. Early in Rin's life, Shiro requested in their last meeting that if he were to die, she teach Rin to wield Koumaken, saying that no one knew more about demon swords than she did. She stubbornly refused, lashing out that he was throwing away his life for the son of Satan.
ஐPowers & Abilitiesஐ
Shura is a powerful exorcist, noted to be an excellent wielder of the sword. She fights using Kirigakure Ryuu - Makengi (Hidden Mist Style - Demon blade Technique). As she was chosen to be the apprentice of Father Shiro Fujimoto when she was child, it can be assumed that she had a great deal of potential already back then. Shura keeps a demon sword in a symbol above her chest that she can summon when she says, "Devour the Seven Princesses, slay the Serpent." She is also noted to be skilled in sealing techniques, as she sealed Rin's Koukamen in her abdomen as well as her own blade in her chest. Likewise, she can also use high-level barrier techniques, which are powerful enough to prevent one of the Demon Kings, Amaimon, from entering it. Shura is also noted to have a Meister in the Doctor class, but she states that she is not a conventional doctor. It is unknown what she means by this. Shura may also have powers as an Aria, due to her being able to seal Rin's demon powers when confronting Bon about his Father. This has not been confirmed though.
ஐList of Abilitiesஐ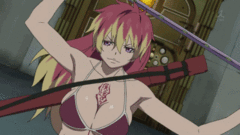 Dabo (Serpent Fang):
Dabo (lit. Serpent Fang) are projectiles made of energy that are lauched at the opponent.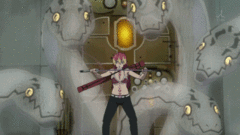 Gara Gara (Absolute Emptiness):
Gara Gara (lit. Absolute Emptiness) allows Shura to thrust her sword at her opponent with great force.
Kirigakure Ryu-Makengi - Hebiransu:
This technique transforms Shura's demon sword into a longer form with a wavy edge, much like the curves of a snake. In addition, the area near the tip of the blade gains an eye. This technique requires blood to be spread along the blade of the sword
Familiar spirit:
Shura was seen to be able to summon a familiar that resembled a snake. It can apparently locate people, as he was able to find Michelle Neuhaus in Shiemi's secret garden. Shura gave a seal that glows red when near the familiar to Rin when they are trying to find Michelle. Another Snake familiar spirit was shown in the manga, instead it had heart markings and was capable of speech. It was used in the Kyoto Arc to assist Yukio Okumura and exorcists in the tracking of Saburota Todo and the Left Eye of the Impure King.
ஐTriviaஐ
♦She is a heavy drinker, but can't handle it well. Once she begins, trouble soon follows.
♦Her pastimes and talents are foot massages, hot stone spas, and bothering animals.
♦She gets 8 hours of sleep on average.
♦Her favorite genre of manga is romance.
♦Her favorite type of guy is strong and collected.
♦
Shura
means "carnage/bloodshed".
♦She states the she never once prayed to God.
♦Her hair is not dyed but is in fact her real color.
♦Her sword techniques resemble the eight-headed serpent Yamata no Orochi that was slain by the Japanese god Susanoo. This resemblance is not only because of the snake patterns of some of her attacks but due to the words she uses to summon her sword: "Devour the Seven Princesses, slay the Serpent" as Yamata no Orochi was killed because it had killed seven Princesses and was going to kill the eighth.This can also mean that her sword might be the Kusanagi-no-Tsurugi as it was found after the snake was killed.
♦Yamada, the name she used when she infiltrated the cram school disguised as a student, means "mountain rice field".